Obituary

Felix "Micky" Loetscher, Pfäffikon
Pfäffikon 21.01.2021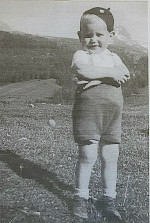 Schöne Jahre nicht weinen, dass sie vergehen - sondern danken, dass sie gewesen. (H. Hesse)
Felix "Micky"
Loetscher
14.05. 1934 bis 21.01. 2021
durfte zusammen mit Marta und uns Kindern ans seiner Seite, seine letzte Reise antreten. Du bist so gestorben, wie DU gelebt hast. Mit grosser Hingabe und Dankbarkeit hast DU das Leben, wie auch den Tod wie Brüder umarmt.
In tiefer Verbundenheit
Marta Trindler Loetscher Francesca, Sabina, Oliver und Michael Loetscher Verwandte und Freunde
Sein Wunsch war es, eine letzte Ausstellung mit seinen Bildern durchzuführen und den Erlös der Brühlgut Stiftung zu spenden. Der Bilderkatalog kann man über bestellung@bruehlgut.ch/ Tel: 052 208 13 02 anfordern.
Aufgrund der momentanen Situation findet die Abdankung im engsten Familienkreis in seiner Kirche St. Ulrich, Winterthur Rosenberg statt.
Condolence book
You can use the online condolence book to express your condolences to the relatives or to say a few words of farewell to the deceased.
Previous condolences
Vernon Bush wrote at 27. January 2021, 22:56 Uhr