Obituary

Irma Stadelmann-Hurni, Emmenbrücke
Luzern 26. Mai 2020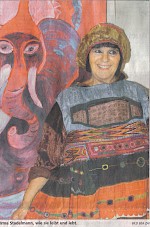 In Liebe, Dankbarkeit und mit vielen schönen Erinnerungen lassen wir dich auf deine grosse Reise gehen.
Eine tolle Mutter, ein liebenswerter Mensch und eine grosse Lebenskünstlerin.
Irma
Stadelmann-Hurni
12. August 1932 bis 24. Mai 2020
Im Herzen bleiben mit dir verbunden Beat Stadelmann und Monika Stulz Oswald Stadelmann und Anna Steiner Manuel Stadelmann Pia Kräuchi-Stadelmann Grosskinder Tobias, Sibylle, Julia, Mathias, Philipp, Laura und Noah
Traueradresse: Oswald Stadelmann, Ruflisbergstr. 38, 6006 Luzern
Im Sinne von Irma: Anstelle von Blumen unterstütze man die Gassenküche Luzern (PC-Konto: 60-30609-6 / IBAN: CH37 0900 0000 6003 0609 6)
Der Abschied findet in engsten Familienkreise statt. Für einige Tage Aufbahrung in Friedental Luzern
Condolence book
You can use the online condolence book to express your condolences to the relatives or to say a few words of farewell to the deceased.