Obituary

Jean Raoul Fink, Jegenstorf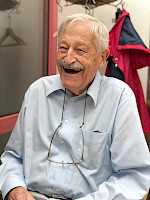 Die Reise ist noch nicht zu Ende auch wenn das Leben uns in Stücke reisst. In aller Stille sehen wir uns wieder, weil du ewig bei uns bleibst.
Traurig nehmen wir Abschied von unserem Vater, Grossvater, Grandpapa, und Urgrossvater
Jean Raoul
Fink
27. Juli 1925 - 4. Oktober 2021
Die Abdankung findet am 28. Oktober 2021 um 14.00 Uhr in der reformierten Kirche Jegenstorf statt
Heidi Lilla Beat Fink Laurence Lilla Léonard Lilla Léonie Lilla Daniela Fink
Kiana Lilla Carmelina Lilla Keenan Lilla Dominik Lilla Joël Lilla
Anstelle von Blumen möchten wir das Alters - und Wohnheim Urtenen-Schönbühl berücksichtigen. Für Spenden Valiant Bank AG, CH76 0630 0016 6119 3580 5
Traueradresse Heidi Lilla, Kanalweg 11, 4562 Biberist COVID-19 in der Kirche ist Maskenpflicht und der Anlass ist auf 50 Personen beschränkt.
Condolence book
You can use the online condolence book to express your condolences to the relatives or to say a few words of farewell to the deceased.
Previous condolences
Ursi Hagenbüchle wrote at 11.10.2021