Obituary

Erika Hedwig Bächler-Wälti, Aarburg
4663 Aarburg, 27. Mai 2020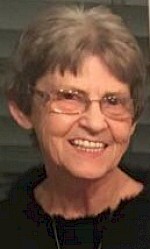 Wenn die Sonne des Lebens untergeht, dann leuchten die Sterne der Erinnerung.
Unendlich traurig, aber getröstet durch die vielen wunderschönen, gemeinsamen Jahre, nehmen wir Abschied von meiner geliebten Gattin, unserem herzensguten Mami, Mamama, Oma, Schwiegermami, Schwester und Schwägerin
Erika Hedwig
Bächler-Wälti
13. Mai 1939 bis 27. Mai 2020
Nach schwerer, mit Tapferkeit ertragener Krankheit wurdest du von deinen Schmerzen erlöst. Wir werden dich nie vergessen, in unseren Herzen lebst du weiter.
Traueradresse: Kurt Bächler Bachweg 25 4663 Aarburg
In liebevoller Erinnerung: Kurt Bächler Andrea und Romeo Orfei-Bächler Annina Orfei und Rolf Wobmann Marcella Orfei Martin und Anita Bächler-Brem mit Dominic, Olivia, Manuel, Jael, Leonie, Joya, Nicola und Savio Franziska und Martin Frei-Bächler mit Laura und Alyssa
Die Trauerfeier findet am Freitag, 12. Juni 2020 um 14:30 Uhr in der katholischen Kirche Aarburg statt. Aufgrund der aktuellen Situation ist die Platzzahl beschränkt und findet deshalb nur im engen Familien- und Freundeskreis statt.
Anstelle von Blumen gedenke man wohltätigen Institutionen.
Condolence book
You can use the online condolence book to express your condolences to the relatives or to say a few words of farewell to the deceased.