Obituary

Hans Meili, Männedorf
Männedorf, 20. März 2023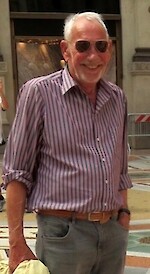 "In der Dunkelheit der Trauer, leuchten die Sterne der Erinnerung"
Hans
Meili
23. Februar 1939 bis 19. März 2023
Nach kurzer, schwerer Krankheit ist unser geliebter Mann, Papi, Opa und Freund von seinen Leiden erlöst worden.
In tiefer Trauer
Silvia Meili Jeannine & Jaden Meili mit Cyrille Benoit Mirjam & Farah das Pflugstein-Team
Opa wünschte sich keine Beerdigung, anstatt dessen möchte er an seinem Lieblingsort in Brissago der Natur zurückgegeben werden.
Condolence book
You can use the online condolence book to express your condolences to the relatives or to say a few words of farewell to the deceased.
Previous condolences
Wilfried und Mariele Noller wrote at 24.03.2023