Obituary

Eva Ursula Höhn-Peier, Wädenswil
Wädenswil, 9. Januar 2021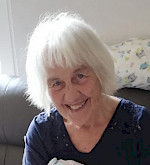 Wenn die Sonne des Lebens untergeht, dann leuchten die Sterne der Erinnerung.
In Liebe und voller Dankbarkeit nehmen wir Abschied von unserer lieben Mutter, Grossmutter, Urgrossmutter und Schwester
Eva Ursula
Höhn-Peier
28.02.1936 bis 01.01.2021
Wir sind dankbar für die schöne gemeinsame Zeit, die wir mit dir verbringen durften. In Gedanken sind wir immer mit dir verbunden. Du lebst in unseren Herzen weiter.
Traueradresse: Familie Enz Alte Niederbürerstrasse 7 9220 Bischofszell
In liebevoller Erinnerung: Maria Cristina Enz-Andina & Fritz Enz mit Familie Romeo & Anita Andina Carlo Andina Kitty Wirz
Die Trauerfeier findet im engsten Familienkreis statt
Condolence book
You can use the online condolence book to express your condolences to the relatives or to say a few words of farewell to the deceased.