Obituary

Anna Schedler - Rutishauser, Hombrechtikon
Hombrechtikon, 19. Oktober 2019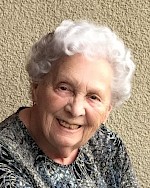 Legt alles still in Gottes Hände, das Glück, den Schmerz, den Anfang und das Ende.
In stiller Trauer nehmen wir Abschied von unserem Mami, Omi und Uromi
Anna
Schedler - Rutishauser
19. April 1929 – 15. Oktober 2019
Niemals geht man ganz. Du wirst in unseren Herzen und Gedanken bleiben. Wir danken Dir für all die Zeit und Momente, die Du in Deinem Leben mit uns geteilt hast.
In liebevoller Erinnerung: Ruth Hürlimann-Schedler, Anne und Otto Holenweger-Schedler Philip und Claudia Hürlimann mit Sophie und Finn, Ralph Hürlimann
Traueradresse: Ruth Hürlimann, Lützelstrasse 28, 8634 Hombrechtikon
Die Beisetzung findet im Familienkreis am Mittwoch, 30. Oktober 2019 um 11.00 Uhr im Ostfriedhof St. Gallen statt.
Condolence book
You can use the online condolence book to express your condolences to the relatives or to say a few words of farewell to the deceased.