Obituary

Verena Albisser, Bussnang
Märstetten 6.6.2020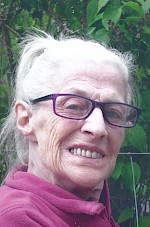 Du bist als Kämpferin geboren und hast bis zum Schluss gekämpft. Wir hoffen, wir konnten dir noch deinen letzten Wunsch erfüllen, deine Augen und dein Lächeln haben es uns ganz klar gezeigt.
Traurig, aber getröstet durch die vielen wunderschönen, gemeinsamen Jahre, nehmen wir Abschied von unserer geliebten Mutter, Schwiegermami und Oma
Verena
Albisser
12.10.1939 bis 06.06.2020
Die Last des Lebens ist dir zu schwer geworden und du hast dich entschlossen einen neuen Weg zu gehen. Wir versuchen, deinen Entscheid zu verstehen. Zurück bleibt unendliche Trauer.
Traueradresse: Fam. Mischkulnig Gillhofstrasse 13 8560 Märstetten
In liebevoller Erinnerung: Peti & Moni mit Vanessa Mischkulnig Bernhard Mischkulnig
Anstelle von Blumen kann für das Alterszentrum Bussnang gespendet werden (neuer Wintergarten) IBAN Nummer lautet CH76 0900 0000 8500 0327 9
Condolence book
You can use the online condolence book to express your condolences to the relatives or to say a few words of farewell to the deceased.