Obituary

Kurt Steiger-Baumgartner, Oberriet
Oberriet, 28. April 2020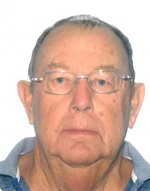 Du hast den Garten des Lebens verlassen, aber deine Blumen blühen weiter
Mit guter und lieber Erinnerung nehmen wir Abschied von meinen Ehemann, unserem Bruder, Schwager, Onkel, Götti und Freund
Kurt
Steiger-Baumgartner
26. Mai 1943 bis 27. April 2020
Ein gutes Herz hat plötzlich aufgehört zu schlagen. Kurt du bist viel zu früh von uns gegangen.
In lieber Erinnerung
Astrid Steiger-Baumgartner deine Geschwister mit Familien deine Schwager und Schwägerinnen mit Familien
Auf Grund der Corona-Krise findet die Urnenbeisetzung im engsten Familienkreise statt. Ein grosser Dank an Alle die Kur im Leben Liebe und Freude erwiesen haben. Wir werden Kurt stets in guter Erinnerung behalten.
Traueradresse: Astrid Steiger-Baumgartner, Mettlen 2, 9463 Oberriet
Condolence book
You can use the online condolence book to express your condolences to the relatives or to say a few words of farewell to the deceased.