Obituary

Hansruedi Schweizer- Versell, Buchs SG
Buchs, den 15.02.2021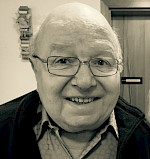 Mini ewigi Ruah find ih bi Gott; geduldig begib ih mi in sini Hand. Nüt chan miar meh schada. (Psalm 62,2)
Miar nömmen Abschied vo üsserem Papa und Neni
Hansruedi
Schweizer-Versell
13.07.1935 bis 15.02.2021
Er het es erfüllts Läba ka und isch am letschta Mentig für immer friedlich ihgschlofa. Mir vermissen di, irgendwenn gsehn mir üs wieder.
Sarah und Ruedi Schweizer mit Familie Katharina Antoine
Die Urnenbeisetzung findet am 26.02.2021 um 11:00 Uhr auf dem Friedhof in Buchs statt.
Traueradresse: Ruedi Schweizer, Flurweg 14, 9470 Buchs
Condolence book
You can use the online condolence book to express your condolences to the relatives or to say a few words of farewell to the deceased.