Obituary

Guido Forster, Wil
Wil, im Juli 2020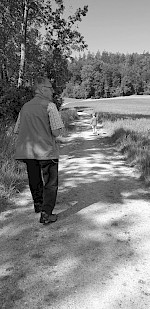 Ganz leise, ohne ein Wort, gingst Du für immer fort. Es ist so schwer, dies zu verstehen, doch einst werden wir uns wiedersehen.
In stiller Trauer nehmen wir Abschied von meinem lieben Sohn, unserem Bruder, Onkel und Schwager
Guido
Forster
24.06.1954 bis 03.07.2020
Kurz nach seinem Geburtstag hat sein gutes Herz aufgehört zu schlagen.
Traueradresse: Familie Fuchs Hügelistrasse 21 9535 Wilen
In liebevoller Erinnerung: Lydia Forster, Mutter Lydia und Markus Gerber Simeon Gerber Tobias und Andrea Gerber mit Elias und Mischa Jonatan Gerber Thomas Forster Philippe Eigenmann Franziska und Peter Fuchs Dario Fuchs und Olivia Fontanesi Jasmin Fuchs und Markus Nauer Gabriela Meier mit Alicia und Joel Anverwandte und Freunde
Die Abdankung findet im Familien- und Freundeskreis statt.
Condolence book
You can use the online condolence book to express your condolences to the relatives or to say a few words of farewell to the deceased.