Obituary

Erika Gugerli-Perfler, Buchs
Buchs, 4. Februar 2020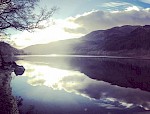 Wer einen Fluss überquert, muss die eine Seite verlassen.
In stiller Trauer nehmen wir Abschied von meiner lieben Gattin, Mutter, Grossmutter, Schwiegermutter, Freundin, Vertraute und nicht zuletzt ihre geliebten und umsorgten Tiere.
Erika
Gugerli-Perfler
11.Juni 1942 bis 3.Februar 2020 ♥️
Nach kurzer und schwerer Krankheit mussten wir sie für ihre weitere Reise loslassen.
Im Sinne des Verstorbenen werden wir nur im engsten Kreise der Familie eine Trauerfeier abhalten.
Condolence book
You can use the online condolence book to express your condolences to the relatives or to say a few words of farewell to the deceased.