Obituary

Reinhard Riggert (-Lisser), Himmelried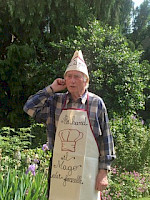 "Von der Erde gegangen - im Herzen geblieben"
Nach einem langen, glücklichen Leben nehmen wir nun Abschied von unserem geliebten Ehemann, Vater und Grossvater
Reinhard
Riggert (-Lisser)
*06.06.1936 bis † 03.05.2021
Er hatte mit seinen köstlichen Gerichten seinen Gästen, Freunden und seiner Familie stehts den Tag versüsst.
Geliebt und unvergessen: Deine Ehefrau Erna Deine Tochter Marie-Claire Dein Sohn Markus sowie alle Angehörigen
Die Trauerfeier findet am Freitag, 14. Mai 2021 um 14.30 Uhr im engsten Familienkreis statt.
Condolence book
You can use the online condolence book to express your condolences to the relatives or to say a few words of farewell to the deceased.
Previous condolences
Albrecht Hans wrote at 11.05.2021