Obituary

Alice Müller-Meili, Gersau
Gersau, 03.12.2021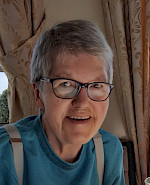 Es ist egal, wann man einen Menschen verliert. Es ist immer zu früh und es tut immer weh.
Traurig, jedoch dankbar für die gemeinsame Zeit, nehmen wir Abschied von unserer lieben Mutter, Schwiegermutter, Schwester, Schwägerin, Tante, Cousine und Gotte
Alice
Müller-Meili
27.04.1935 bis 03.12.2021
Sie verstarb nach kurzem schweren Leiden. Wir erinnern uns gerne an Deine unendliche Fürsorge.
Wir sind traurig:
Maja und André Demiéville-Müller, Dielsdorf Bruno Müller und Gaby Mathis, Gersau Werner Meili und Familie, Frauenfeld Hansruedi Meili und Familie, Affoltern am Albis Rosmarie Burkhard-Meili, Laufen BL Heidi Kleinhans-Meili und Familie, Affoltern am Albis Mirta Jarisch-Meili und Familie, Winterthur Hanspeter Luginbühl (Patenkind) und Familie, Birmensdorf
Traueradresse: Bruno Müller, Gütschstr. 24b, 6442 Gersau Die Urnen-Beisetzung findet am Freitag 10. Dezember um 13.45 Uhr auf dem Friedhof Birmensdorf mit anschliessender Abdankung in der reformierten Kirche statt.
Statt Spenden für Blumen und Grabschmuck, darf gerne ihr letztes Zuhause, das Altersheim Rosenpark in Gersau (Konto 01-925-7) berücksichtigt werden.
Condolence book
You can use the online condolence book to express your condolences to the relatives or to say a few words of farewell to the deceased.