Obituary

Fritz Steiner-Kaufmann, Horw
Horw, 28.06.2021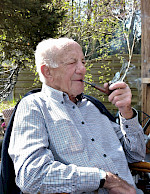 Mit dem Tod verliert man vieles, niemals aber die gemeinsame Zeit und die Erinnerungen
In tiefer Liebe, traurig und mit grosser Dankbarkeit müssen wir Abschied nehmen von dir - Päpu, Papi, Dädä
Fritz
Steiner-Kaufmann
26. November 1927 bis 21. Juni 2021
Lieber Dädä, wir behalten dich als fürsorgliche, gütige und als eine stets am Leben interessierte Persönlichkeit in dankbarer Erinnerung. Deine Liebenswürdigkeit tragen wir als kostbaren Schatz in unserem Herzen.
Alice Steiner-Kaufmann Heidi und Ernst Bartl-Steiner Anita und Marco Fabbri-Steiner Livio und Andrea Fabbri-Herzog Silvio Fabbri und Jessica Baschong Peter und Sue Steiner-Hertach Pascal Steiner und Oktavia Anggriani Sheila Steiner Rebecca Steiner Melina Steiner Niall Steiner
Traueradresse: Alice Steiner-Kaufmann, Kantonsstrasse 2, 6048 Horw Die Trauerfeier findet im engsten Familienkreis statt.
Dreissigster: Samstag 24. Juli, 09.30 Uhr, Pfarrkirche Horw Spenden an Blindenheim Horw, Kto. 60-289-3, Vermerk Fritz Steiner
Condolence book
You can use the online condolence book to express your condolences to the relatives or to say a few words of farewell to the deceased.