Obituary

Ruth Elsa Patzen - Müller, Pflege- und Altersheim Thusis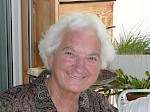 Denn Christus ist mein Leben und das Sterben für mich nur Gewinn. Philipper 1.21
Nach einem erfüllten Leben, nehmen wir Abschied von Ruth Patzen- Müller. Sie durfte am Sonntag Abend in Frieden mit unserem lebendigen Gott einschlafen.
Ruth Elsa
Patzen - Müller
31.10.1925 bis 16.02.2020
Die Urnenbeisetzung findet am Freitag, den 13. März 2020, im engeren Familienkreis statt. Für die ganze Trauergemeinde halten wir den Gedächtnisgottesdienst am Freitag den 13. März um 14.00 Uhr in der Kirche Scharans ab.
In liebevoller Erinnerung: Peter und Andrea Patzen-Stadelmann, Sohn Reto und Ruth Patzen-Suter, Sohn Cornelia Patzen, Gian Marc Patzen, Karin und Ruedi Staubli-Patzen mit Maurus und Nina Urs und Lydia Patzen-Bühler, Sohn David und Geesche Patzen-Dörrie mit Nando, Lina, Giosch Rahel und Adrian Steiner-Patzen mit Soraya, Simea und Janosch Salome Patzen René und Marianne Müller Spörri, Bruder Mirjam Mehr-Müller, Schwester Odette Müller, Schwägerin
Bei allfälligen Spenden gedenke man der Stiftung Gott hilft in Zizers IBAN CH11 0900 0000 7000 0646 2 oder ERF Pfäffikon Evangeliums Rund Funkt IBAN CH96 0900 0000 8400 01831 Vermerk Ruth Patzen Traueradresse: Urs Patzen, Bual 16, 7412 Scharans
Condolence book
You can use the online condolence book to express your condolences to the relatives or to say a few words of farewell to the deceased.