Obituary

Anna Hedwig Willi - Gasser, Igis
Igis, 24.07.2022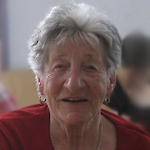 Dein Wille geschehe.
Nach langer Krankheit und einem Leben voller Liebe, Güte und Pflichterfüllung schlief meine geliebte Ehefrau, unsere liebe Mama, Schwiegermutter, Nana und Urnana im Beisein ihres geliebten Ehemannes friedlich im 91. Lebensjahr ein.
Anna Hedwig
Willi - Gasser
10.03.1932 bis 22.07.2022
Wir danken Dir von Herzen für deine Fürsorge und die Liebe, die Du uns in Deinem Leben geschenkt hast. Du hinterlässt eine grosse Lücke, aber in unseren Herzen lebst du weiter.
Traueradresse: Christian Willi - Gasser Rebhaldenweg 7 7206 Igis
In stiller Trauer: Christian Willi - Gasser Familie Christian Willi - Büchel Anna & Hanspeter Hemmerle - Willi mit Familie Hanspeter & Beatrice Willi - Oehler Jakob & Helene Willi - Schwendener mit Familie Silvia & Adrian Ammann - Willi mit Seraina, Marcel, Simona & Madlaina
Mein Dank geht an unsere Tochter Silvia die meine Ehefrau seit vielen Jahren bei uns zu Hause liebevoll gepflegt hat. Ein Dank auch an die Ärzte Dr. Castelberg, Dr. Faia und Dr. Hauser.
Die Bestattung findet im engsten Familienkreis statt.
Condolence book
You can use the online condolence book to express your condolences to the relatives or to say a few words of farewell to the deceased.
Previous condolences
Silvia Ammann-Willi wrote at 27.07.2022