Obituary

Jean-Roch Tschanz, Bern
Bern, 23. Oktober 2020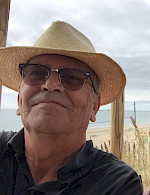 Weint nicht wenn ihr an mich denkt, seid dankbar für die schönen Jahre. Ich gab euch meine Freundschaft, ihr könnt nur erahnen welches Glück ihr mir gegeben habt.
Traurig nehmen wir Abschied von unserem geliebten Ehemann, Vater, Grossvater, Schwiegervater und Bruder
Jean-Roch
Tschanz
07.11.1949 bis 18.10.2020
Nach einer tapfer ertragenen Krankheit hat sich sein Lebenskreis nach 70 Jahren geschlossen. Was bleibt ist die Liebe und Verbundenheit mit Jean-Roch, die wir all die Jahre erleben und spüren durften und in unseren Herzen weitertragen werden. Wir sind dankbar für all das, was er uns gab. Seinem Wunsch entsprechend nehmen wir im engsten Familien- und Freundeskreis Abschied.
Traueradresse: Britta Tschanz Thunstrasse 94 3006 Bern
In liebevoller Erinnerung: Britta Tschanz, Jérôme, Thierry und Thayná Tschanz, Joëlle, Raoni, Leandro und Liara Marbacher, Nicole Tschanz und Diego Kohn, Pierrette Berger, Michèle Beaud-Demierre
Die Trauerfeier findet am Samstag, 14. November 2020 um 13.30 Uhr in der Dreifaltigkeitskirche Bern statt.
Condolence book
You can use the online condolence book to express your condolences to the relatives or to say a few words of farewell to the deceased.