Obituary

Thomas Friedrich Wilhelm Heim, Basel
Basel, 01.03.2023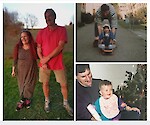 "Nobody said it was easy, no one ever said it would be this hard."
Mein geliebter Ehemann, unser wundervoller Papi, fröhlicher Grosspapi, Bruder und Schwager, Schwiegersohn, Freund, langjähriger Mitarbeiter und Tenniskollege
Thomas Friedrich Wilhelm
Heim
20.03.1957 - 24.02.2023
Wir sind immer noch sehr bestürzt, um deinen viel zu frühen Abschied. Wir können es nur schwer in Worte fassen, welche grosse Lücke du hinterlässt. Du bleibst für immer fest in unserem Herzen und in unseren Gedanken, Tag und Nacht. Lieber Thomas, Lieber Papi, wir danken dir für jeden gemeinsamen Moment und wünschen dir Ruhe und Freiheit.
Deinen Wunsch respektierend, wurdest du im engsten Familienkreis bestattet.
Trauerfamilie Theresa Heim, Passwangstrasse 5, 4127 Birsfelden mit den beiden Töchtern Sarina und Vanessa Heim
Condolence book
You can use the online condolence book to express your condolences to the relatives or to say a few words of farewell to the deceased.
Previous condolences
Antonella wrote at 02.03.2023

Mariuccia wrote at 06.04.2023