Obituary

Todorović Nada, Killwangen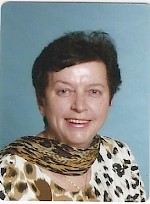 Ostavio nas je dobar čovek, široke duše i velikog srca u kojem je bilo mesta za sve ljude ovog sveta.
S velikim bolom i tugom u srcu, javljamo da je posle duge i teške bolesti prestalo da kuca srce naše drage supruge, mame, bake
Todorović
Nada
10.11.1942 - 07.11.2019
Kad si već krenula, ti idi na Nebo, među odabrane od Hrista, neka nas njegov blagoslov i dalje čuva, i pazite na nas, da se jednog dana što dostojanstveniji sretnemo s tobom. Zauvek ćeš biti u našim srcima.
Ožalošćeni suprug Gojko, sinovi Božidar i Miroslav sa porodicama
Sahrana ce biti održana na groblju u Killwangenu u četvrtak, 14.11.2019 u 13:30 časova.
Condolence book
You can use the online condolence book to express your condolences to the relatives or to say a few words of farewell to the deceased.