Obituary

Walter Bühler, Zürich
Zürich, 04.01.2020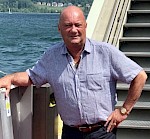 Du bist von uns gegangen, aber nicht aus unseren Herzen.
Tief erschüttert, unendlich traurig, fassungslos, aber auch dankbar nehmen wir Abschied von
Walter
Bühler
02.05.1950 bis 04.01.2020
Nach einem reich erfüllten Leben, bewundernswert geduldig ertragener, schwerer Krankheit durftest du nun endlich in unserem Beisein friedlich einschlafen. Du wirst uns fehlen und immer in unseren Herzen bei uns sein.
In liebevoller Erinnerung: Ruth, Marcel, Marc und Familie
Condolence book
You can use the online condolence book to express your condolences to the relatives or to say a few words of farewell to the deceased.
Previous condolences
Hans schedler wrote at 18. February 2020, 19:59 Uhr